LEGRO
Unusual and precise design
Elegant LEGRO shower enclosures are a symbol of apparent simplicity with a precise design. During production, great emphasis is placed on the use of quality materials and detailed processing of individual parts. All-glass screens are not only handsome, but also very practical. In order for the shower enclosure to remain the pearl of your bathroom during the entire period of use, the glass surfaces are treated with a special layer against scale. The fixed parts are made of clear safety glass with a thickness of 8 mm and the door with a thickness of 6 mm with a COATED GLASS surface treatment against scale deposits. Shower doors for niches and rectangles are variable, so there is no need to specify left or right opening. The new LEGRO range brings you a comprehensive range of shower screens, for which we recommend cast marble shower trays, which underline their overall impression with their properties and design.
General characteristics of LEGRO series shower screens:
Elegant brass hinges with chrome finish
Clear safety glass with a thickness of 8 mm on fixed and 6 mm on rotating parts
The COATED GLASS surface treatment prevents scale build-up and facilitates cleaning
Aluminum profiles with polished surface
The wall profile allows leveling of wall irregularities up to 20 mm
Magnetic seal in a discreet transparent silicone case
The chrome strut ensures the stability of the shower screen, it can also be installed outside the corner
Height 1900 mm
Choice of 2 types of handles:
= handles supplied as standard (in the package), square to buy
Extended warranty 3 years
What is COATED GLASS?
A chemical compound of polymer mixtures which, in conjunction with catalysts, reacts with silicate groups contained in glass
A continuous layer of film is formed on the glass surfaces, which has the task of filling the micropores in the glass and repelling water.
How does COATED GLASS work?
Due to the water-repellent film, water droplets clump and run off the glass surface
Even if smaller drops are kept on the glass, COATED GLASS does not cause chemical bonding, the glass will not be disturbed and will not turn gray
However, even glass treated in this way requires occasional maintenance, which is very easy and time-saving thanks to COATED GLASS; we recommend a special set of PRO COMFORT and TOP COMFORT products for glass cleaning

Possibility of custom production of screens according to the client's requirements up to a height of 2000 mm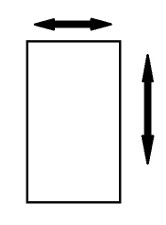 Variable tailor-made screen solutions

Height up to 2000 mm

It is also possible to make solid parts of a quarter-circle shower enclosure so that an atypical quarter-circle with dimensions of 1000x800 and 1200x900 mm is created.

It represents a solution for almost any space

The price is increased by 40% (to the type with the nearest size)

The ATYPic solution will be priced and made only on the basis of a sketch from the customer

Contact our support for more information
Products in series