HYDRO LUX
Compared to the HYDRO POOL system, the HYDRO LUX whirlpool system has 20 NANO nozzles on the back.
Vířivý systém HYDRO LUX má oproti systému HYDRO trysek 22 ks v provedení NANO na záda. Vířivý systém HYDRO LUX je založen na principu cirkulace vody. Tělo je masírováno vodou smíšenou se vzduchem, která proudí z trysek umístěných po boku vany.

Vybavení:
trysky MICRO SLIM 8+2ks (8 po bocích, 2 na chodidla) a 22ks NANO (na záda)
symetrické vany MICRO SLIM 8ks po bocích a 22+22ks NANO (na záda)
Originální trysky POLYSAN
Trysky MICRO SLIM a NANO - nejtenčí dostupné trysky na trhu vynikají o 40 % vyšším masážním účinkem než běžné trysky. Ergonomicky řešené zapuštění polohovatelné otočné kuličky lépe řeší situaci, kdy dochází k zalehnutí zádových trysek. Protože tloušťka trysek je pouhý 1 mm, jsou tyto trysky účinnější a příjemnější při použití hydromasážní koupele než běžné vysoké trysky.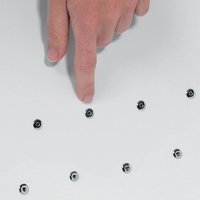 Micro slim Nano trysky Osazení vany systémem HYDRO LUX+ovládání typ B
Products in series