LUCIS LINE Shower Side Panel 900mm, clear glass
They represent the cutting edge of this segment
| | |
| --- | --- |
| Recommended retail price incl. VAT | 393,25 €/Piece |
| Your price excl. VAT | 325,00 €/Piece |
| Your price incl. VAT | 393,25 €/Piece |
| VAT | 21 % |
temporarily sold out

Delivery time: ~21 Days
---
| | |
| --- | --- |
| Order code | DL3415 |
| Brand | Polysan |
| Series | LUCIS LINE |
| Color profile | Chrome - Brushed aluminum |
| Size | 90 |
| Depth | 90 cm |
| Height | 2000 mm |
| Glass thickness | 8 mm |
| Shape | Fixed wall to shower door |
| Easy maintenance | Antidrop |
| Material | TRANSPARENT glass |
| Guarantee | 24 months |
| Package weight | 37,000 kg |
| EAN | 8590729052463 |
---
Variants
Description
Installation dimension 900

±

10 mm
V / R variable version
The price is only for the side wall. To create the entire shower enclosure (square / rectangle), it is necessary to purchase a shower door.
Suitable door types are available in the accessories.
LUCIS LINE sliding shower enclosures represent the top of this segment. Their extra 2 m height brings more space and light into the shower enclosure. The angular profiles and sleeve bushings give this series a modern look. The new wall profile design allows a 20 mm tolerance in setting and hiding set screws, which are now accessible only when the cover strip is folded out. Horizontal sealing profiles are elegantly embedded in aluminum profiles, extending their service life considerably. The long and slim subtle handles emphasize the uniqueness and design of this series.
Total characteristics of LUCIS LINE shower enclosures
FACE
- Above standard height 2 m (normal height of sliding screens is 1.9 m)
- Choice of up to 66 floor plans from door to semicircular screen (doors can be combined with side walls)

CONSTRUCTION
- For higher curtain rigidity, some parts were made of 8mm glass (6mm door vibration was specially suppressed)
- The panels are made of hardened safety glass according to EN ČSN 14428 (supported by a declaration of conformity)
- Sealing profiles are embedded in aluminum profiles (extending seal life over plugged plastic profiles)

DESIGN
- The shape of polished aluminum profiles corresponds to the angular design of cast marble trays
- Sealing profiles are hidden in aluminum profiles
- Cover Aluminum Alloy Set Screws (Screw Heads Not See Inside)
- Elegant long and slim handle made of polished stainless steel (length 340 mm)
- Double bearing castors hidden in a square housing
- Chrome top profile covers

MAINTENANCE
- ANTIDROP surface treatment for easy cleaning (applied in glass production)
- Easy to clean: simply push the lower carriage to open the door inward
- CA-30400 cleaning and protection agent is recommended for cleaning the glass

RELATED
- Possibility of additional gluing of the chrome towel holder directly onto the glass (especially on the side wall)


CONSTRUCTION
- The screens are delivered in partially assembled condition (the glass is set in aluminum profiles)
- Drill, spirit level, screwdriver and sanitary silicone sealant are required
- For tightness, apply silicone only to the outer joint between the aluminum profile and the tray
- Easy to install allows a withdrawable wall profile in the range of 0-20 mm
Ask
Sales assistant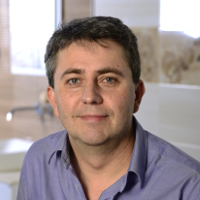 Veigert Pavel