KIMURA Concealed Thermostatic Shower Mixer Tap, 3-way, chrome
Thermostatic faucets at a reasonable price
| | |
| --- | --- |
| Recommended retail price incl. VAT | 429,55 €/Piece |
| Your price excl. VAT | 355,00 €/Piece |
| Your price incl. VAT | 429,55 €/Piece |
| VAT | 21 % |
stock 4 Piece

Líbeznice: 4 Piece
---

| | |
| --- | --- |
| Order code | KU392 |
| Brand | Sapho |
| Series | KIMURA |
| Colour | Chrome |
| Material | Brass |
| Installation | Concealed |
| Type of control | Thermostatic |
| Switch type | Rotary switch |
| Shape | Circular |
| Something extra | 3 outlets |
| Guarantee | 72 months |
| Package weight | 3,650 kg |
| EAN | 8590913824975 |
---
Description
Thermostatic mixer taps are designed to provide convenient operation, save water and energy for heating. It offers high accuracy of the required temperature control without laborious adjustment as with conventional batteries. KIMURA Battery Design is a simple, timeless style of classic cylindrical form.

HOW DOES THE THERMOSTATIC BATTERY WORK?
The thermostatic battery is factory-set to a water temperature of 38 ° C. So, when the water is turned on by turning the upper handle, water at 38 ° C will flow. If you want cooler water, just turn the bottom handle to the right. On the other hand, if you want water warmer, push the STOP safety lock and turn it to the left. The water flow and whether the water flows from the handheld, from the overhead shower or into the bath tub is selected by turning the upper handle.
The water switch is integrated into the upper control handle
3 outputs
STOP Fuse - Safe system against scalding
Material: brass (battery and control handle body)
Finish: chrome
Battery filters integrated
The package includes a concealed body
The battery is factory set and tested at 3 bar at both inputs. Under these conditions, the functionality of the battery is optimal with any type of water heating. For pressure above 5 bar, we recommend installing a pressure regulator!


WHAT KIMURA BATTERY THERMOSTAT BATTERIES OFFERS:

ARE SAFE
With the STOP fuse blocking, the water at the outlet cannot exceed 38 ° C. The temperature can only be increased by unlocking the safety knob on the handle. Especially families with children will appreciate this function.

SAFETY CONTROLS
The metal controls of the thermostatic faucet are designed for easy operation in wet environments.

TWO FUNCTIONS INTEGRATED TO ONE CONTROL ELEMENT
Selecting whether water will flow into a hand or overhead shower is done by turning one handle. How easy and fast.

HYGIENCY, PRACTICE AND DESIGN YOU KNOW WHEN CLEANING
Easy maintenance is one of the aspects when designing batteries. The KIMURA battery has no unnecessary creases, which are poorly treated and in which dirt and scale are kept.
Excellent performance / price ratio - quality without compromise. Simple design and modern technology are a convincing argument for choosing KIMURA batteries. With thermostatic taps, the modern thermostatic cartridge ensures convenient and precise operation with metal handles.

Extended battery leak guarantee
Ask
Sales assistant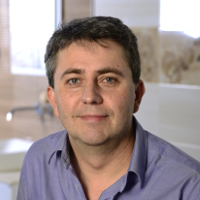 Veigert Pavel