ASTRA OW Freestanding Bath 165x75x61cm, White, Panel Metallic Grey/Brown
Bathtubs that stand out in the bathroom
removed from the offer
| | |
| --- | --- |
| Order code | 30939-F633 |
| Brand | Polysan |
| Series | FREESTANDING BATHTUBS |
| Colour | white/metallo |
| Material | Acrylate |
| Installation | Freestanding |
| Diameter of waste | 52 mm |
| Size | 165x75x61 cm |
| Length | 165 cm |
| Width | 75 cm |
| Depth | 49 cm |
| Volume | 255 l |
| Shape | Freestanding |
| Guarantee | 120 months |
| Package weight | 41,350 kg |
| TARIC | 39221000 |
---
Description
Free standing acrylic bathtubs in a space with lining in 5 color shades - this is the design delicacy of the Czech manufacturer POLYSAN. The cladding of the Austrian company EGGER is made of water-resistant plywood, resistant to high humidity and water. This material is also used to make kitchen worktops.
The entire self-supporting cladding construction is on height-adjustable plastic feet. A tub is fitted into this structure, which also has adjustable feet, which allows a better alignment of the entire tub to a horizontal position. So the bathtub does not fit the lining structure, but with a minimal expansion joint above it. This joint must be filled with silicone, preferably transparent.
Lining material: waterproof plywood EGGER - color F633 METALLO GRAY

It is necessary to order a long min. 675 mm.

We provide a 7-year warranty on the POLYSAN bath made of acrylic. The condition of guarantee is correct installation according to the instructions, including the use of the original design.
Surface Maintenance:
Wash the laminate with a soft sponge or cloth soaked in normal detergent (Jar, PUR). Do not use abrasive sponges and aggressive solvents.
HEAVY SHELL (POLYSAN only)
Polysan uses the most modern technology of the British company Armor Ltd. in the production of bathtubs and trays. The bottom of the Polysan bath is reinforced with a special HEAVY SHELL layer in comparison with the competing baths, thus ensuring higher rigidity of the bath. The baths are not cured by heat shock, they mature to the maximum hardness at 20 ° C after removal from the mold. The result is a perfectly flat and smooth surface without the so-called orange effect.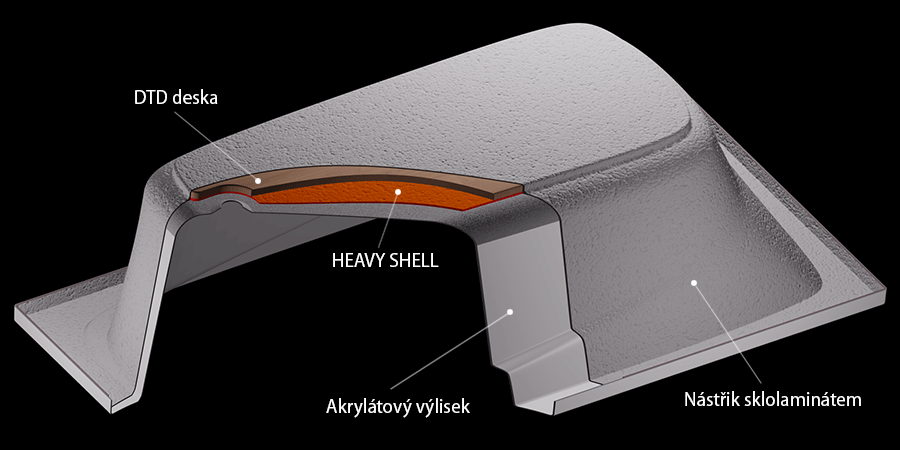 A free-standing bathtub can be one of the dominant elements in a bathroom. These bathtubs create an impression of comfort and luxury. Freestanding bathtubs are bathtubs for a space that are not walled, bricked or tiled. You can place this type of bathtub anywhere in the bathroom, even with a view to enjoying a nice view from the bathtub. They have an elegant design and, thanks to the material used, high strength and stability. They are manufactured in a wide range of designs, so they are suitable for bathrooms of various styles. They can be used in modern, luxurious and classic bathrooms.