NIRONA Vanity Unit 57x51,5x43cm, oak Sherwood (NR062)
| | | |
| --- | --- | --- |
| | excl. VAT | incl. VAT |
| Your price / Piece | 399,00 € | 482,79 € |
stock > 5 Piece

Líbeznice: > 5 Piece
---
---
Description
Properties
| | | |
| --- | --- | --- |
| Brand | | SAPHO |
| Series | | NIRONA |
| Size | | 57x51,5x43 cm |
| Width | | 570 mm |
| Height | | 515 mm |
| Depth | | 430 mm |
| Colour | | Brown |
| Decor | | Sherwood Oak |
| Color options | | According to the Swatch |
| Material | | MDF/laminate |
| Installation | | Wall-Hung |
| Type of cabinet | | Drawers |
| Type washbasins | | Washbasin |
| Equipment | | Automatic closing |
| Součást balení | | Without washbasins |
| Weight | | 21.0 kg |
| Packing | | 1 Piece |
| Guarantee | | 2 years |
Explanations
Can be supplied in the following colors:
Price group A surcharge 0%
Price group B 30% surcharge
Delivery time for price groups B is 6 weeks.
Automatic closing
Furniture is equipped travels drawers with slow release and an automatic closing movement drawers. No more noisy closing.
Without washbasin
The cabinet does not come with a washbasin.
Description
Hanging cabinet under the sink
2x socket
BLUM TANDEMBOX antaro

pull-out

with BLUMOTION damping function with lifetime warranty

The sink is not part of the cabinet
A Rockstone plate can be used instead of a washbasin. If you are interested, choose a color according to the swatch
here
and contact the sales department for pricing and ordering.
The furniture is delivered assembled, ready for immediate installation.
Install the furniture on a flat wall. If the cabinet body is twisted, the function of the closing mechanisms may fail. Do not expose furniture to permanent humidity and contact with water.
Ventilate the bathroom properly after use. Use silicone sealant to prevent it from flowing into the cabinet.
Series description
The NIRONA series has simple, clean and straight shapes in combination with KARE ceramic washbasins. The recessed drawers in the body are handleless, equipped with BLUM pull-outs with the BLUMOTION damping function with a lifetime warranty. The space between the drawers is filled with mirror decor, which creates an interesting spatial effect.
We offer the cabinets in a white glossy design and in 2 laminate decors with an oak wood structure in widths of 60, 70, 85 and 100 cm. The series is complemented by 2 types of additional high shelving cabinets. You can get the cabinet with the laundry basket by simply removing the lower shelf at the additional cabinet 35 cm wide and installing a cloth Velcro laundry basket.
In the production of furniture, we use the
BLUM

®
TANDEMBOX antaro drawer pull-out system with an integrated BLUMOTION damping function. All drawers equipped with this system can be opened very easily and easily with one hand movement. TANDEMBOX antaro ensures high quality of movement with a dynamic load capacity of 30 and 65 kg.
The BLUMOTION integrated damping technology guarantees smooth running, closing the furniture softly and quietly for the entire life of the furniture. It does not matter how vigorously you close the drawers or how full they are and therefore loaded.
Variants
482,79 €/Piece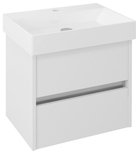 expected
Restock: Week 28 2022
538,45 €/Piece
Downloads
Documents - Instruction