SIERRA Towel Radiator 500x1000mm, brushed stainless steel
| | |
| --- | --- |
| Recommended retail price incl. VAT | 784,08 €/Piece |
| Your price excl. VAT | 648,00 €/Piece |
| Your price incl. VAT | 784,08 €/Piece |
| VAT | 21 % |
stock 3 Piece

Líbeznice: 3 Piece
---

Order code

NR220

Brand
Sapho
Colour
Brushed stainless steel
Suggested el. heater
200W
Material
Stainless steel
Possibility of heating
Electric Heating , Central heating , Combination el. Energy/Water
Size
500x1000 mm
Spacing connection
50 mm
Spacing connection 50 mm
Unsymmetrical (Side)
Width
500 mm
Height
1000 mm
Volume
3.64 l
Shape
Shape E
Performance
213 W (

75/65/20 °C, Δt 50 K

)
Guarantee
24 months
Package weight
6,840 kg
EAN
8590913834004
---
Description
The noble and truly beautiful material of these radiators maximizes the aesthetic quality of the shapes offered.
Volume 3.64 l
The radiator can be suspended on both sides, you can choose the left or right installation option.
If the radiator is heated only electrically, it is necessary to buy a ku "plug for the radiator (see accessories).
Connectivity options:


A combination of central and electric heating
Electric heating

Central heating
Recommended connection sets: TWIN, TWIN COMBI, CUBE, COMPACT
The heating rod and connecting valves are not part of the radiator. Suitable accessories can be found in the accessories.
Possibility of "central" connection of heating ladders
1. Central heating - manual valve
Set CUBE Set COMPACT Fittings copper ALU fitting Cover rosettes
If you choose to purchase a ladder of this type, you need to choose a suitable connection kit.
If the heating is to be used only for hot water heating without a thermostatic head, it is necessary to buy a connection set
eg COMPACT or CUBE (according to heating design).
The CUBE set is available in chrome, brushed stainless steel or silver.
The COMPACT kit is available in chrome only. The COMPACT and CUBE sets do not distinguish between the right / left variant.
ADVICE! Holes for pipes in tiles are not always perfectly executed, so we recommend to buy a set of cover rosettes.
Cover rosettes serve to cover Cu or Alupex pipes and uncleaned holes in the wall.
Cover rosettes are available in chrome or brushed stainless steel.
ATTENTION! Our design valves have a special 24-19 thread, which is why it is necessary to buy a recommended one for each valve
clamping fitting according to material and pipe diameter - copper / alupex.
Compression fittings are available in chrome or brushed stainless steel.
---
2. Central heating - valve with thermostatic head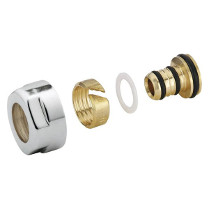 TWIN connection Fittings copper ALU fittings Cover rosette
If you choose the thermostat option, we recommend TWIN:
The TWIN set is available in chrome or brushed stainless steel.
ADVICE! The TWIN set is available in right / left version. In the picture above the left variant is visible. This means that the hot water supply is on the left as well as the thermo head itself on the left (always in front view). We recommend selecting the valve so that the head always faces in the direction of the horizontal radiator profiles and not the opposite side.
ATTENTION! The aforementioned clamping fittings for heating assembly + cover rosettes.
Available color variant of compression fitting - chrome or brushed stainless steel.
---
4. Electric heating - with thermostatic heating rod
When choosing electric heating we offer a wide selection of heating rods - ONE, ONE-D, MOA, KTX, GV ...
ADVICE! The client chooses the heating rod according to his own taste, design and performance!
ATTENTION! The heating rod shall be of adequate power according to the specification of the heating element or the nearest lower possible.
If the heating is only electrically heated, it must be filled with antifreeze anticorrosive liquid, eg LIKIDO. It is also necessary to buy a ½ "plug for radiators.
Ask
Sales assistant
Sommerová Zuzana