LED Shower Head dia 250mm, chrome
Spend the time spent in the shower
removed from the offer
Similar products

| | |
| --- | --- |
| Order code | MS592 |
| Brand | Sapho |
| Colour | Chrome |
| Material | Brass |
| Size | 250 mm |
| Shape | Circular |
| Something extra | LED lighting |
| Guarantee | 24 months |
| Package weight | 2,600 kg |
---
Description
Overhead showers with LED lighting belong to modern product trends with unlimited possibilities of LED lighting.
Enjoy moments spent in the shower with intimate lighting and allow your eyes to relax without direct lighting.

Overhead shower with integrated LED lighting
Circle diameter: 25 cm
Head thickness: 8 mm.
Material: brass
Finish: chrome
Articulated connection: 1/2
When using a shower, the water jet is effectively illuminated with different colors depending on the water temperature:
Below 31 ° C it lights blue
From 32 ° C to 42 ° C it glows pink
From 43 ° C to 50 ° C lights up red
When the water temperature exceeds 50 ° C, the shower LED flashes red
No battery power is required for this head.
Energy for LED lighting is generated in a ball joint generator, which is driven by the force of a water jet.
These overhead showers have an articulated connection that allows you to turn the head according to your needs.
These elegant showers stop the water immediately when the water is closed and there is no flow of the remaining water from the head.
Ask
Sales assistant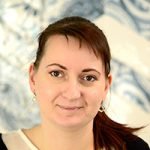 Ing. Bartošová Monika