HM System KOMBI, Control Panel Type P - Pneumattic
The whirling and bead system utilizes the advantages of HYDRO and TURBO AIR systems
| | |
| --- | --- |
| | incl. VAT |
| Your price / Piece | 2 249,39 € |
to order

Delivery time: ~28 Days
---
| | |
| --- | --- |
| Order code | KMP |
| Brand | Polysan |
| Series | KOMBI |
| Guarantee | 24 months |
| Package weight | 45,000 kg |
| EAN | 8590729081784 |
| TARIC | 39249000 |
---
Description
The set includes: P-Pneu control + KOMBI whirl system
Control
Type P - Tire
Basic equipment is characterized by simplicity of operation while maintaining full functionality.
The system is equipped with a mechanical air suction regulator for regulating water massage intensity.
Vířivý a perličkový systém KOMBI využívá přednosti systémů HYDRO a TURBO AIR.
Vířivý systém HYDRO je založen

na principu cirkulace vody. Tělo je

masírováno vodou smíšenou se

vzduchem, která proudí z trysek

umístěných po boku vany.

Perličkový systém TURBO AIR masíruje

tělo pomocí předehřátého

stlačeného vzduchu, který proniká

ze dna vany malými otvory.
Vybavení:
trysky MICRO SLIM 8+4+2ks (8 po bocích, 4 na záda a 2 na chodidla)
symetrické vany 8+4+4ks (8 po bocích, 4+4 na záda)
30-50 vzduchových kanálků na dně vany
Originální trysky POLYSAN
Trysky MICRO SLIM a NANO - nejtenčí dostupné trysky na trhu vynikají o 40 % vyšším masážním účinkem než běžné trysky. Ergonomicky řešené zapuštění polohovatelné otočné kuličky lépe řeší situaci, kdy dochází k zalehnutí zádových trysek. Protože tloušťka trysek je pouhý 1 mm, jsou tyto trysky účinnější a příjemnější při použití hydromasážní koupele než běžné vysoké trysky.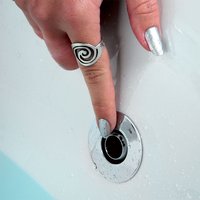 Trysky Micro slim Systém TURBO AIR Osazení vany systémem KOMBI + ovládání typ B